Sam Kerr was Chelsea's hero once again as her double helped the Blues to a 3-2 extra-time victory in the Women's FA Cup final against Manchester City, adding to their Women's Super League title from last weekend.
The striker scored two stunning goals on Sunday to help seal a third successive WSL win for Chelsea, and stepped up again at Wembley to help steer her side to victory. Manager Emma Hayes put the triumph down to "human endeavour", while also acknowledging the performance wasn't necessarily "perfection".
Kerr opened the scoring against the run of play in the 33rd minute, nodding home from Millie Bright's right-wing cross. The defender's delivery looked goal-bound, but Kerr was there to help it on its way.
City came from behind twice to force extra-time, the first from a superb Lauren Hemp goal. The winger beat Bright on the left of the area before curling a superb effort into the far corner.
It was another stunner, this time from Chelsea's Erin Cuthbert, that saw the Blues back ahead. Her effort from range pinged off the underside of the crossbar before beating Ellie Roebuck.
Team news
Chelsea made two changes after their 4-2 win against Man Utd last weekend. Aniek Nouwen and Beth England came into the XI, with Fran Kirby also taking her place on the bench.
Man City made one change from their 4-0 win against Reading last Sunday. Demi Stokes – who missed the WSL outing – returns to XI, replacing Julie Blakstad at left-back.
Chelsea were mere minutes from defending their trophy but Hayley Raso fired City level once again. It was a lovely pass over the top from Alex Greenwood that found her, with Raso outmuscling Magdalena Eriksson before firing past Ann-Katrin Berger.
It was another dramatic twist in the showpiece finale worthy of the record-breaking crowd. But Kerr was the match-winner in the 99th minute, driving into the area from midfield before her shot deflected off Greenwood and into the net.
FA Cup final attendance record beaten
There was an official attendance of 49,094 – a record for a Women's FA Cup final. It beat the previous record of 45,423, which was set when Chelsea beat Arsenal at Wembley in 2018.
It is a game Chelsea won despite being second best for much of the match. City dominated possession and shots – registering 23 to Chelsea's nine – but found themselves thwarted by an inspired Berger, particularly in the second half.
Sunday's defeat is also the first time Man City have lost an FA Cup final, winning on their first three appearances.
The result was also a touch of revenge for Chelsea, who lost 3-1 to City in the League Cup final in March. They add a second trophy to their cabinet this season and successfully defended their title from the 2020/21 season.
Beth England was delighted as Chelsea won the FA Cup for the second straight time at the expense of Manchester City.

Hayes: This team will go down in history
"I'm so happy, I really am. That was so amazing for the women's game today. Two teams who respected each other going toe-to-toe. I loved the game plan, I thought it was really aggressive, but we had to grind and work.
"We stopped Man City's momentum in the way we press, but it meant we had to suffer and there was a lot of cramping and groin strains. To dig it out doesn't surprise me, I said that to them at extra time. I knew which team was going to be the winning team.
"I think Man City are a top team, but they underestimated us today. our team, from the loss in the Continental Cup final, had a point to prove and I thought we did really well with that.
"Those women will go down in history. I'll look back in ten years' time and I'll say 'that group was immense, the best team I've ever coached'. I totally understand the want to talk about perfection in football but having been on the winning side more often than not, let me tell you it's about human endeavour. We have a group of people that don't like to be on a losing team and they'll find a way [to win]."
Analysis: Hayes' mentality monsters win the day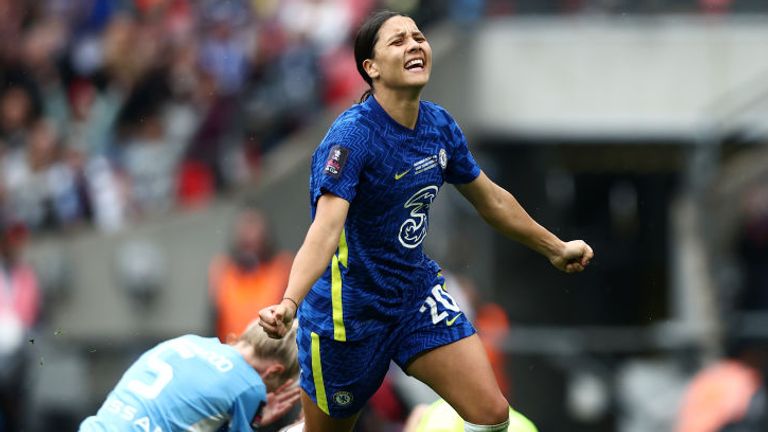 Sky Sports' Charlotte Marsh at Wembley:
"It was hardly a vintage afternoon for Emma Hayes' side. In two successive games when the pressure has been on to win, they have conceded four goals – they only conceded one goal in the entirety of their run to the FA Cup final and 10 overall in the WSL this season.
"It's perhaps a touch of nerves or facing sides with talented attacks, but the Blues hardly made it easy for themselves on Sunday. Like they did against Manchester United, Chelsea ended the game with four centre-backs on the pitch to try and stem the relentless City flow of attacks. Ultimately, it ended up working.
"Credit has to go to Man City too. Coming from behind twice in any game is not easy, let alone in a final at Wembley, but they showed the incredible determination and togetherness that helped them navigate a less than easy season. They were much the better side, but were unable to make that third breakthrough.
"But ending the campaign with Champions League football and winning the League Cup, plus an FA Cup final appearance, can certainly be considered a success.
"But Hayes' mentality monsters won out once again and their ability to win in the big moments – even if they might not be the best – is unparalleled. As the saying goes, people remember the results but not the performances.
"It's a fourth domestic double for the Blues as they move onto four FA Cup titles. Their dominance of English women's football continues and it's hard to see anyone stopping them completely any time soon."
Analysis: Kerr's prolificacy the difference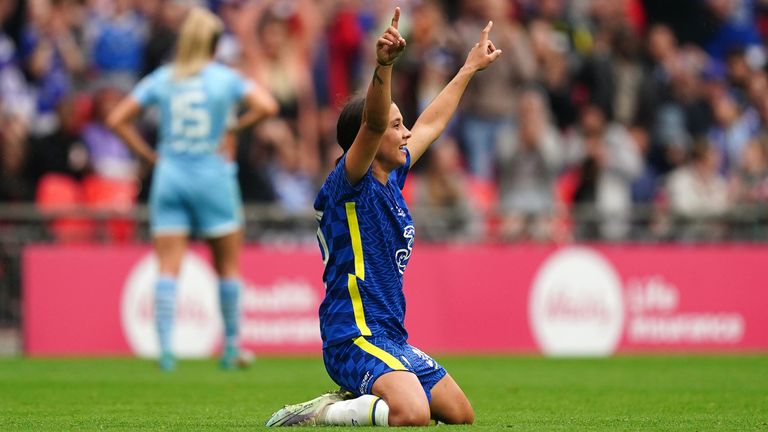 Sky Sports' Laura Hunter at Wembley:
"Chelsea performed at a level somewhat below what they are capable of, but know how to navigate tricky moments and turn them into an advantage. Their nerve is unshakable. They spent the majority of the tie without the ball and trailed Man City in almost every department, bar the scoreline.
"City's game plan was clear and they executed it well, but lacked Chelsea's cutting edge. It's what trophies are won and lost on.
"Of City's 23 attempted shots, four were on target and two converted into goals. Of Chelsea's nine offered, four hit their mark and three went in. Their conversion rate is staggeringly good. Emma Hayes' side don't need a plethora of chances to win a game – they possess a strike force who hit the back of the net more than any other. Prior to kick off, Sam Kerr had scored 14 goals in her last 12 appearances – make that 16 in 13.
"She's outscored every female player in the country this term, by quite some distance. That kind of potency is difficult to guard against. On an unusually quiet afternoon for the Australian international, she's scored the two most important goals – the opener and the decider. Additionally, she's now netted in each of Chelsea's past three domestic cup finals.
"The numbers favoured City's performance, but the outcome was down to Chelsea's ruthlessness. It's why they have won the WSL title three seasons running – they almost play with an air of inevitability. You either rise to the pressure, or buckle under it and when presented with pivotal moments, it's usually always Chelsea's players who seize the big occasion."
Taylor: We were the dominant team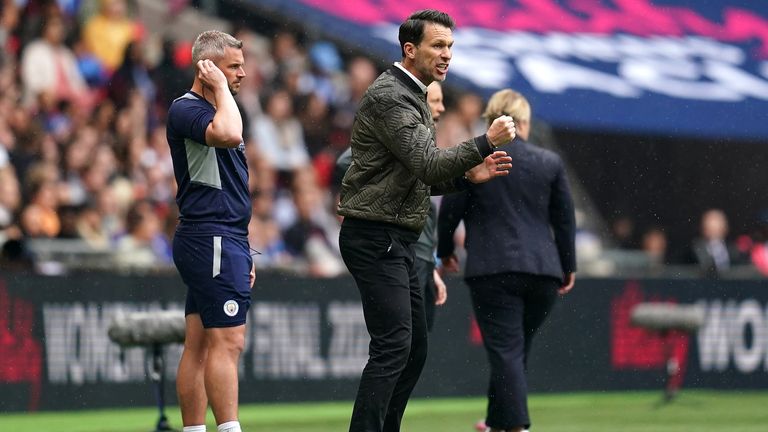 "Of course I'm going to be biased, but I felt like we were the dominant team in large periods of the game," he reflected. "I thought we started well, had good chances. We had to show good character to bounce back after giving away a disappointing goal. We controlled large parts of the game and then the last 20 minutes, I thought we were excellent.
"We were the only team in extra time that I felt like were going to go on and do it. We make a slight error, which ends up costing us. It's difficult then, because Chelsea can see the finish line.
"Supremely proud of the team – it was just unfortunate we couldn't quite get our noses in front when we had the ascendancy.
"My feeling is not one of disappointment – of course we wanted to lift the trophy – but at the moment I just feel pride.
"The only area of disappointment is if you give Chelsea three goals, you're going to have to do a lot to win the game. But outside of the three goals, I never felt like they had opportunities. I felt like we nullified their threat well, and created our own chances but we just needed to be a bit tidier in the final bit.
"This is football. It can happen. You can dominate large periods and come away with nothing. You have to take your hat off to Chelsea; what they do, they do really well.
"Outside of us, no other team has taken a trophy. We're proud of that. We know we're there, we know we can do it. The future is very bright."